Animalia exhibition: All aboard the environmental train
In the midst of dismal warnings that the world is on a 'fast track' to environmental disaster, Train World's new exhibition Animalia is more than timely.
The Schaerbeek museum invites visitors on "a poetic and scientific voyage" dedicated to its protection, particularly from the point of view of biodiversity and climate. 
As exhibition team member, UCLouvain environmental science professor Caroline Nieberding, told the press, "this is the first time that biodiversity and climate are linked, with the message given in a creative and audible way."
As regards biodiversity, "you may think of elephants, but it's under our feet," she said. As one of the show's many videos illustrates, insects are essential in keeping birds alive and are needed by 84% of plants. 
Animalia oozes such environmental information. It highlights what causes biodiversity to disappear (intensive farming and urbanization, deforestation and overfishing, climate change, water, soil and air pollution and invasive species); that there are only 600 gorillas left in the world; some 600 million birds have disappeared in the last 40 years; and more than 40% of the world's oceans are under threat.  
But Animalia is far from doom and gloom. Set to Bruno Letort's haunting, original music full of animal sounds, it celebrates the planet's most wonderful creatures. Life-like sculptures, from brightly coloured parrots to giant baboons; immense elephants to tiny mice, are portrayed in perfect harmony with the museum's collections – including Belgium's oldest preserved steam train (1844) – under the guidance of Train World's chief designer, artist François Schuiten.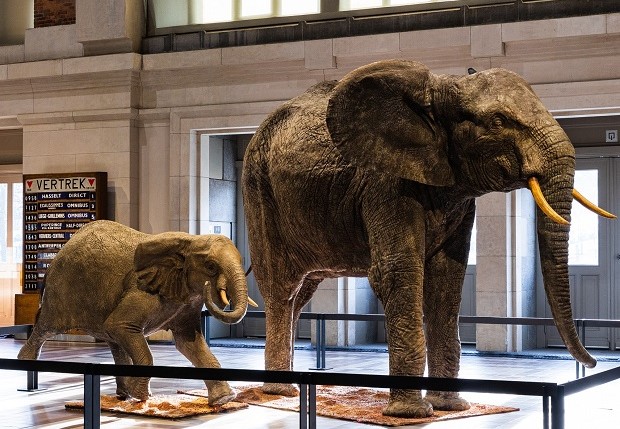 Walking through the museum's 10,000m2 of exhibition space and admiring Belgian animal sculptor and taxidermist Pierre-Yves Renkin's works (do not miss his special 'cabinet of curiosities' upstairs), the message is clear: look after these species before it is too late.
"I've lost count of how many sculptures there are here, but the giant turtle is my favourite," said Renkin (pictured below), who started sculpting animals at the age of 14.
Born in Brussels, but now living in France, Renkin was 19 when he was taken on by the Royal Belgian Institute of Natural Sciences, where he learnt taxidermy and built up major collections. Meanwhile, the home of his great-grandfather Jules Renkin, a former Belgian railways and prime minister, was apt for Animalia: "He lived on rue Belliard and his garden overlooked the then Leopold Zoo." 
The exhibition also demonstrates how the Belgian railway network is attempting to reduce its ecological footprint. Some 90% of trains are now electric and there are examples of upcycling in action – with station clock tables, passenger benches and blue cushions created from Infrabel work clothes on show.  
With statistics revealing the number of private cars has skyrocketed from 750,000 in 1960 to 5.95 million in 2022, Belgium aims to increase rail travel by 16% and move 30% of its freight to trains by 2030. As one of Animalia's many original posters illustrates, "There is not a 'planet B' but there is a plan 'B' [Belgian Rail]." 
A host of activities accompany the temporary exhibition at Train World. These include made-to-measure and literary guided tours, a 'Carnival of the Animals' musical workshop, a special children's trail based on the five senses and school holiday workshops for 8 to 12 year olds. 
Exhibition Animalia
17 February to 5 November
Train World
Place Princesse Elisabeth 5
Schaerbeek
Photos: Trainworld; P-Y Renkin in his studio (c) M-F Plissart