BEPS to expand Early Years Centre, bringing all the Early Years children together
In association with BEPS International School
Good news keeps coming out of BEPS International School. Following the announcement that the established international school, on the edge of Bois de la Cambre, is renovating the property next door to house their Secondary School, BEPS has now revealed that in addition to this they will renovate the back building for their Early Years.
Currently, BEPS International School Early Years children are spread between two separate buildings. While one part is in a dedicated Preschool building, due to limited space, the Reception classes are housed in the Primary School building.
"We are delighted that in September 2022, all our Early Years children will be able to enjoy learning together in one place that has been designed specifically for the needs of our young learners," says BEPS Director Pascale Hertay.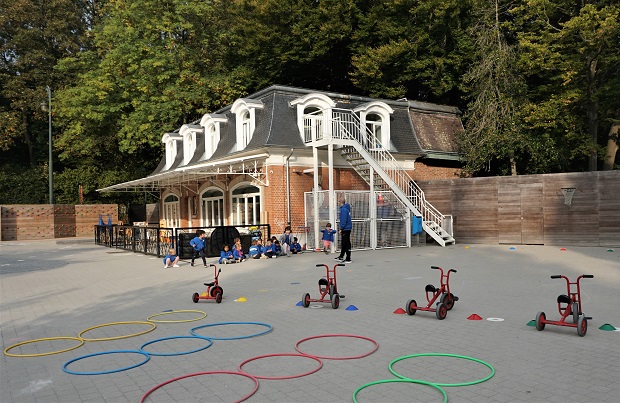 BEPS' Early Years programme provides an education for children aged from 2.5 to 5. The development of the new Early Years Centre will create space to host around 80 children. Moreover, BEPS will develop an outdoor space with more natural elements, dedicated entirely to the Early Years. This space will provide additional outdoor learning opportunities and encourage appreciation for the surrounding nature.
"Expanding the space and re-designing the environment to embrace the Early Years' needs and to stimulate the interest of younger children will provide our teachers with an inspiring setting, where they can implement our curriculum to the fullest," says Pascale Hertay
A few years ago, BEPS was one of the pilot schools for the new International Early Years Curriculum (IEYC). For the BEPS team, it's important to use a curriculum that provides the best learning engagement; a curriculum which is based on the latest research about young learners' brains and how it can be applied in their learning.
IEYC is based on four basic strands of learning: Independence and Interdependence, Communicating, Enquiring and Healthy Living and Physical Well-being. These come together with seven foundation principles to guide teaching approaches, "making sure the children feel confident and happy is vital to learning," says BEPS' Head of Early Years, Erna Van Acker.
The Early Years Team is also committed to child-led learning, where teachers guide, support and challenge rather than instruct. "Our teachers plan the Units of Learning," explains Van Acker, "but as they go along, they build and expand on what the children are engaged and interested in".
In child-led learning, the child explores, finds out and creates using a variety of materials, techniques and resources. The results demonstrate their own level of development. "Rather than having the children follow instructions to the letter," says Hertay, "they can express their own creativity and personality. What is important is that the teachers encourage them to 'take risks', explore and discover".
One of the IEYC strands is Enquiry, and Van Acker says that this is where the freeflow learning approach really comes into its own. Also known as freeflow play, the idea is that under the care of the teachers, children can 'freely' access different teacher or child-led learning centres – both indoors and outdoors – to make connections and take part in activities that interest and challenge them.
"With the new building, we will have more connecting rooms," says Van Acker, "so we will have greater opportunity to set up different centres and resources for the children to flow from one activity to the other, indoors and out".
Therefore at BEPS, different rooms or parts of rooms are dedicated to certain areas of learning. There is a construction area, for instance, a nature corner, a 'messy' corner, a media centre and a space for reading, among others.
"Early Years children don't operate according to strict age levels; it's not one size fits all," says Hertay. "Depending on individual development, character or personal background children are supported or challenged in their learning."
More than just differentiating lessons, BEPS Early Years teachers coach each child on their unique learning journey.
BEPS International School
Avenue Franklin Roosevelt 23
1050 Brussels