Brussels Rhythm and Blues Club
Brussels Rhythm and Blues Club
10/12/2022
from
20:30
until
10/12/2022
-
20:30
28 rue de la Tulipe
Ixelles
Belgium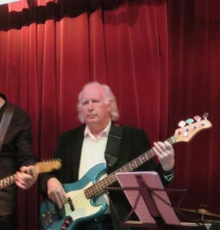 Mariana Tootsie Etta James Tribute + Zinneke Roadrunners 
Doors 7:30pm Concert 8.30pm PAF - €17 (in advance) €20 (on door)
Only 100 places available – buy tickets here
Mariana Tootsie is a charismatic singer who combines an immense talent with a generous live presence. She has sung on stages worldwide, worked with major international stars and sang "Farewell" on the soundtrack to The Hunger Games film. "The Armour", Mariana's first album under her alter ego Ozya, came out in March 2021. At the BRBC, Mariana will be paying tribute to the amazing American soul, R'n'B, blues, jazz and gospel singer Etta James. Mariana showcases Etta's songs from the 50s through to the 70s, ranging from "I Just Wanna Make Love To You" and "At Last" through to "Something's Got a Hold On Me".
I Just Want To Make Love To You - Mariana Tootsie@BRBC 25 Jan 20
Tell Mama - Mariana Tootsie Etta James Tribute@BRBC 25 Jan 20
BRBC houseband Zinneke Roadrunners will be performing their popular R'n'B repertoire, featuring classics by Muddy Waters, Jimmy Reed, Bo Diddley, Elmore James, Junior Wells, Link Wray, Big Mama Thornton, Otis Redding, Al Green and others.
Spill The Wine - Zinneke Roadrunners@BRBC 12 Mar 22
Shake Some Action - Zinneke Roadrunners@BRBC 19 Nov 22
Toredown - Zinneke Roadrunners@BRBC 19 Nov 22
Sounds serves local and bio beers, classic beers, the best lager in the world, exceptional organic wines, exclusive Belgian spirits, signature cocktails and the finest cheeses.
BRBC returns on 21 January 2023 with The Riff Brothers, plus Zinneke Roadrunners
You can keep in touch with events via the BRBC website: https://www.brbc.be/, the BRBC Facebook group, the Facebook Fan Page and Twitter @BrusselsRnB
BRBC concert videos: https://www.brbc.be/concertvideos.html