Get your Kikks: How Namur's international festival of digital culture is designed to be creative and playful
Showcasing new technology and creative projects from Belgium and abroad, the 11th edition of the Kikk Festival is getting ready to welcome thousands of visitors to Namur from 27 to 30 October.
The ambitious and wide-ranging event offers a dual programme for professionals and the general public  - including young audiences - aimed at building bridges between art, science and technology.
The four-day festival offers visitors an immersive experience into the world of digital and creative culture, from gaming, VR and AR to data and graphic design. At the heart of its expansive programme is the festival's mission to raise awareness of issues surrounding digital media as well as drawing together creative communities.
With participants from 30 countries, new director Laura Latour believes that Kikk has a key role in improving the impact of digital culture on business and developing an effective ecosystem for the new industry. "The accent is on the international and being a crossroads between culture and economy."
For professionals, the big draw is some 40 conferences organised around six themes: Metaverse, AI & Creativity, Digital Communication, Inclusive Design, Art & Technology and Data Visualisation. The festival is also designed to entertain with a packed agenda of networking events, masterclasses, workshops and fun parties with live DJs and a techno crew (La Nef and Le Delta).
A new activity for the 2022 edition is a multi-sensory Experience Dinner in the dark at La Delta, followed by three-course dinner and drinks at the Brasserie de la Confluence.
Open to everyone, is the innovation market installed in a Creative Village in a big tent in Place d'Armes (free entrance). It's an important showcase and test market for numerous cutting-edge products as well as a unique opportunity to see and handle a range of new inventions. International pavilions from France and Quebec are among 10 foreign delegations in the village.
The flagship attraction for the public is as ever an art trail of immersive and interactive installations, Kikk in Town. More than 30 intriguing, thought-provoking and visually entertaining artworks are spread around the city-centre and the esplanade of the citadel. For the first time, there's an entrance fee of €5 for over 16s, but this includes access to the Biotopia exhibition at Le Pavillon space at the citadel.
Each year, the large-scale installations become even more spectacular. From light shows to soundscapes, beatsurfing and invitations to dance, many of the works explore the relationship between humans, nature and modern technology. The trail is family-friendly and ideal for anyyone curious to explore emerging digital creativity.
A series of workshops for kids includes Augmented Masks, an introduction to AR via the work of Guillaumit, a French artist who produces illustrations for children, comics and digital products. Participants will have a chance to make original masks with easily customised templates.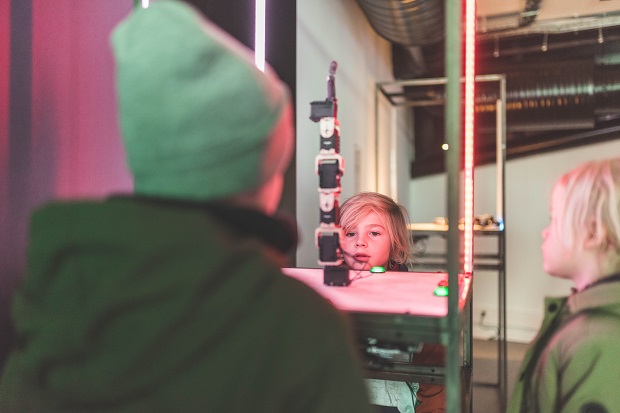 The choice of the theme of the festival, Tales of Togetherness, was a response to the social isolation that the pandemic created, said artistic director Marie du Chastel. "There's a need to explore emotion and empathy, and how to connect as humans."
This includes alternative means of communication, she pointed out. "Facial expressions, music, dance and other emotions. This is a positive edition that goes beyond discrimination and draws people together, while being fun and playful." 
Kikk Festival
27-30 October
Théâtre de Namur
Namur
Photos: 2021 Kikk Festival (c) Simon Fusillier