Going, going, gone: Brussels auction houses report record business amid Covid-enforced shift to online sales
Buying antiques, art and objects at auction is a satisfying, sustainable and accessible shopping experience – and the adrenaline rush of competitive bidding can become addictive. Yet, despite the uptick in online customers following lockdown, some remain wary. There is never a bad time to buy or sell art and antiques, and Belgium – a land of collectors and connoisseurs – boasts an abundance of auction houses.
To demystify the process, we meet two leading Brussels auctioneers, who offer a rare behind-the-scenes look at how they operate and share their tips for first-time buyers.
The Belgian wing of French auctioneer Cornette de Saint Cyr opened in 2012. Based in a fine hôtel de maître in Chaussée de Charleroi, it specialises principally in 20th- and 21st-century art. Belgian works are among the highlights of its autumn season. It's already been an intense year, as client numbers have multiplied fivefold since the start of the pandemic, says associate managing director Wilfrid Vacher (pictured below), a specialist in contemporary art. With in-person auctions impossible when Covid struck, online sales have attracted new customers.
"It's another world and there aren't many people who know how it works," admits Vacher, who considers it a shame that some people "don't dare" to dip to their toe in the auction world. "There are pieces for all budgets, tastes and eras, and prices start from €100." A good entry point is buying prints, he says: "You can own a work by a well-known artist for often very reasonable prices. Certain editions are almost originals and can bring real pleasure." Buying old furniture can be better value than buying new, and second-hand is more fashionable as well as sustainable. With an art acquisition, there's the pleasure of effectively joining a club, especially if the artist has a reputation. "It can be a very enriching experience," says Vacher, who advises anyone considering buying a work to "be yourself and follow your instincts".
Each sale is preceded by the publication of a catalogue, available online, with each lot given an estimated price range. Now that pre-sale exhibitions are possible again, Vacher advises buyers to visit the house and inspect works. "People don't always realise you can come and see everything without any obligation to buy," he says. The auction house's characterful rooms are a striking backdrop to the works on display. If your interest is piqued by an object, ask for condition reports; you'll then need to provide ID card and bank details to register on the website ahead of the sale. On the day of the auction, "click on the site at home and drink a little whisky while you buy", Vacher advises.
Potential buyers unable to attend in person can bid via an online portal like Drouot. "I recommend bidding by telephone while following a livestream of the sale," says Vacher. "It's as if you're actually present in the sale room; you can feel the atmosphere." If you're not free on the day, absentee bidding requires you to fill in an order form with a maximum amount for each lot. Vacher recommends avoiding multiples of €50. And should you set a limit? "Yes: it's a golden rule, but many people don't, they're the impulsive collectors who say, 'this piece is for me' and don't have a limit. It's quite difficult to abandon a bid once you've decided it's perfect for your collection."
His profession is a continual learning experience: "There's not a week goes by without someone bringing me something I'd never heard of." Each member of the team has a speciality and care is taken to authenticate works, as well as providing a fair valuation. There are a number of stages involved in estimating prices, including the artist, the number of exhibitions and the prices already obtained. The period of the artist's career is important, as well as the technique and historical context. Research, with the help of a worldwide database, is one of Vacher's favourite aspects of the job. "I recently spent a whole week determining something was the right work, how it was bought and the reputation of the artist. I love doing this."
The constant pressure to find new works while adapting to pandemic regulations is felt equally by Hôtel de Ventes Horta, in an Art Deco-style building in Avenue de Roodebeek. It runs monthly auctions from September to June, plus wine sales in May and November (pictured above), and sells antiques, art, carpets, ceramics, clocks, glass and silverware, lighting, prints, books, jewellery and curiosities.
This non-specialised approach is a ploy to survive fluctuating markets, says owner and auctioneer Dominique de Villegas (pictured below). Having joined in 1986, four years after the house was established, he took over the management in 2004 and runs it with his wife and now two children. They've also recently added a small office in Knokke. "In the 1980s, Art Nouveau was at the top of the market and the former owners suggested we specialise in it, but the Japanese were pushing the market due to tax refunds, and when that stopped the market dropped," he explains, noting that furniture and carpets have suffered a similar fate. "What's selling well is paintings, jewels, silverware, clocks and bronze pieces." The prevalence of fake diamonds and stones makes older quality stones particularly appreciated.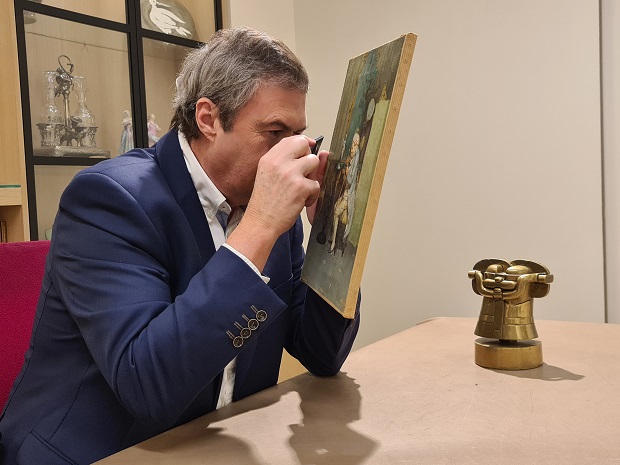 Globally, tastes in art and antiques are changing, he says. A younger generation of collectors – the average age is now around 40, while once it was 60-plus – means he keeps a close eye on trends and is more selective. "When I'm invited to view someone's valuables – usually after a death or a house move – I used to take around 30 items and now it's between five and 10, and only things likely to do well."
For buyers, de Villegas too recommends visting pre-sale exhibitions to handle the objects, ask questions and learn the stories behind them. On the day of the sale, the house calls phone bidders, asking them to follow the livestream to see when their lot is coming up. Is there any risk of placing a bid by accident? "Absolutely not," he says, laughing. "We're supervised by a bailiff who makes sure everything is run perfectly." When it comes to setting limits, he suggests looking at a piece and deciding what you would be willing to pay, before looking at the valuation. "You have to feel it in your heart and the more you do it, the more you can price an item."
When valuing, de Villegas seeks a compromise between seller and potential buyer. "If we go too high we lose buyers; inflating the market doesn't work," he says, pointing out the similarity to the property market. The pandemic has pushed prices up by about 10%. "Online means we sell more items. We used to sell around 60-65% of the items we had and now we are up to 80%, particularly smaller things."
Horta benefits from Belgium being a "rich market", he says, thanks to the country's many painting schools. Online access to sale catalogues has also increased demand among potential buyers. "People check our website as soon as we put a new sale on and my daughter can immediately send videos of a piece." With 40 years' experience in the profession, de Villegas recalls the days when he would post a Polaroid to anyone seeking information.
Sometimes, works soar above their estimate. June's auction featured a bronze Mercury statue that de Villegas considered a 19th-century French copy and valued accordingly at €450-€600. In the longest sale of his career, two agents fought it out over the telephone until the hammer came down at €710,000. The seemingly commonplace object turned out to be an Italian original, dating from the 16th or 17th century. Acknowledging that it's impossible for an auctioneer to be a specialist in every field, de Villegas says this reinforces his message to customers that "auctions can also be a lottery". And there was an element of professional pride that he hadn't left the statue in the owner's house when asked to select items for sale, "where it could have ended up at a flea market for €200".
While such treasures are hard to find, de Villegas recalls another notable sale. "A brother and sister came to us for a free valuation and opened up a case with some nice pieces of Fabergé that had belonged to their Russian mother. They had already taken them to a flea market where they found themselves surrounded by dealers, and sold two for between €800 and €900. We then sold the cheapest one for €10,000."
The small print
For telephone and absentee bids, Horta charges a commission of 22%; for its online platform Drouot 25%. ID card details and home address are necessary for the first two options, in addition to credit card information for Drouot. From September, bank details are required for bids over €10,000. Cornette de Saint Cyr adds a 30% commission to the sale price.
Auction calendar
HORTA
Art & antiques
15 & 16 November, 19.30; exhibition 10-14 November
6 & 7 December, 19.30; exhibition 1-5 December
Fine wine
18 November, 14.00
CORNETTE DE SAINT CYR
Furniture & objects
25 October, 14.00
20th & 21st century design
21 November, 14.00
Belgian & contemporary art
5 December, 14.00
Belgian & contemporary art (duplex Brussels-Paris sale)
6 December, 19.30
Prints and multiples – Christmas auction
19 December, 14.00
This article was first published in the ING Belgium Expat Time magazine, autumn 2021