Kritical Conversations: About Home
Full Circle
10/06/2023
from
15:00
until
10/06/2023
-
17:00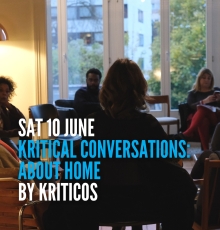 A brand new Conversations Series hosted by Kriticos to deep dive into themes of great significance - from love and faith to masculinity, creativity and all in between. We take one classic book at a time (or more) as point of departure. You can expect honest and passionate discussions, enriching ideas, good company. 
This time we will discuss the meaning of "Home". As we evolve into a globalised world, changing locations and crossing borders, we tend to lose sense of the traditional sense of "Home". Instead we're now redefining the concept of what "Home" truly means to us. This conversation will tackle that dilemma and internal crisis… What is "Home" to you?
The conversation will be based on different books:
- Things Fall Apart by Chinua Achebe
- Americanah by Chimamanda Ngozi Adichie
- The Lies That Bind by Kwame Anthony Appiah
- Home by Toni Morrison
You don't have to read or finish the books. Come open-minded for new perspectives and thirsty for a good conversation. 
__________________________________________________________
ABOUT
Kriticos is a multidisciplinary creative. A recording & performing singer-songwriter, as well as a marketing & business professional. When his heart and mind are set on a project, he goes all in. The Book Club is his latest one - a book club that doesn't require you to read the book, a round table for philosophers and curious minds. Sessions are inclusive and popular across different ages, backgrounds and reading interests. So far, they have been hosted in Brussels, Amsterdam, Berlin and Helsinki.