Summer in Belgium: Some of the best art is outside
Discover a wealth of outdoor culture and public art around every corner, from street art to free poetry to performances in a ruined abbey
Brussels
The Parcours Street Art is a great art activity for sunny days you'd rather spend outside. The city tour lets you discover tons of spray-paint frescos under the open sky, and there's a handy map for planning your own itinerary. Among the brilliant works on display is the mural Haunted image (pictured, main image) that was painted by Fitore Alísdóttir Berisha for the 17th Balkan Trafik Festival. The Kosovan is a committed feminist who illustrates the impact of feminicide in this work of art. She depicts the pain and sorrow it brings and how these past misdeeds continue to haunt the present.
Jazz in the Woods is an initiative by cosy park bar Le Kiosque. Every Wednesday in summer, it turns its large wooden terrace in Brussels' Bois de la Cambre into an open-air stage, inviting jazz combos to provide a fitting soundscape to an enchanting setting.
Wallonia
The abbey ruins at Villers (pictured) are now a treasured heritage site and a venue for a varied cultural programme. What's left of the massive 12th-century abbey that was once home to monks of the Cistercian Order makes for hauntingly beautiful site. Check the calendar for special events and activities this season, including the starry Choirs' Night at the end of of August and jazz and yoga in September.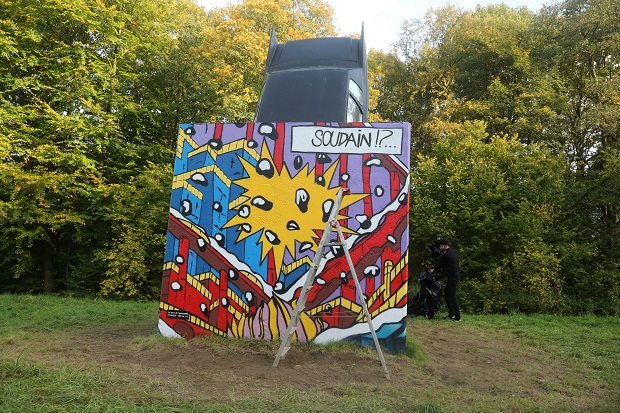 Combine contemporary art with nature at the free outdoor Sart Tilman Museum in the grounds of Liège University. Its collection of monumental sculptures and large-scale paintings shows the depth and diversity of contemporary artists in French-speaking Belgium. It includes both in-situ work and installations that were not specifically designed for the museum grounds.
Contemporary artworks grace the terraced hanging gardens of Thuin. The fortified town is famed for its steep south-facing terraces that were cultivated in the Middle Ages as vegetable patches due to its lack of green space. The area's microclimate gives rise to a fertile floral show. To view all 200 terraced gardens, count on between 1 hour and 1 hour 30 minutes to complete the tour. Open all year round, it's necessary to book in advance.
This countryside ramble includes a tour of art installations that reflect their natural surroundings. In a 155km circuit through the picturesque villages of the Condroz and Marche-en-Famenne region, some 55 artists have created a series of works for this year's Sentiers d'Art summer display. The installations hark back to the land art movement that was established in the 1960s. It centred around the use of natural materials found in woods and fields. Some of the pop-up works then evolve over time, changing in form and appearance. The signposted tour is free and open daily; a map is on sale for €5.
This former Cistercian domain Notre-Dame du Vivier Abbey offers a varied cultural programme as well as two gîtes and a popular restaurant and terrace. Located in a wooded village perched above the Mosane valley near Namur, the renovated 13th century monastery hosts regular shows and concerts. An additional attraction to the nature site are herds of farmyard animals.
Flanders
Industrial art and heritage welcome you at the entrance of the Verbeke Foundation, an open-air contemporary art museum in East Flanders. Head in a bit further, and you'll find some fantastic large-scale art around this green, overgrown property. Some of the eyebrow-raising pieces – like a giant digestive tract – double as accommodation.
Vrijbroek Park in Mechelen is a lovely place, with 65 hectares of paths, a lake and ponds, an off-lead area for dogs and extensive gardens, including one of Belgium's nicest rose gardens. Fairly new to the park is the Mechelen Tipi, a beautiful wooden hut that offers poetry to those who step inside. It's an ode to Mechelen's international community, with poems in all the languages spoken in the city.
Middelheim is Flanders' most famous open-air art museum, with modern and contemporary sculptures at one with the nature that surround them. The permanent collection is regularly complemented with temporary exhibitions. The strikingly modern Braem Pavilion – a work of art in itself – houses some of the museum's more vulnerable pieces.
Unique in Belgium, the Bokrijk open-air heritage museum was created by moving historical homes, farms and mills to this site in Limburg. Complete with costumed actors, a bakery, playgrounds, arboretum, fishing lake and workshops on traditional crafts and trades, it's a paradise of a family day out.
With its extremely limited opening hours and rural location, Shoes or No Shoes sees few visitors, but it's one of Belgium's most exceptional museums. It started when artists around the world were asked to send one of their shoes to collectors. The results – and this extraordinary building – must be seen to be believed.
The tiny village of Doel, meanwhile, has become an open-air museum of street art. The mostly abandoned town, saved from the wrecking ball, has become an offbeat tourist attraction.
There's a large concentration of public art at the Belgian seaside. This is thanks to art triennial Beaufort, which stages such fantastic monumental works up and down the coast that some municipalities choose to keep them forever. Worth seeking out is Touching to Sea You in De Panne, a giant octopus emerging from the sands.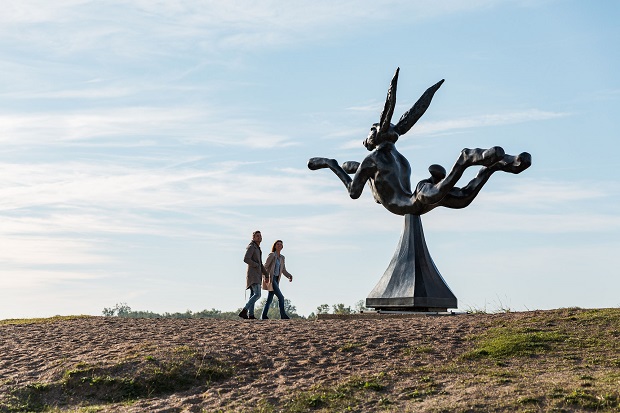 Along the shoreline of Knokke-Heist, catch Flanagan's leaping hare sculpture Hospitality (pictured). While walking along Nieuwpoort's riverside promenade will bring you to Family Module, a touching sculpture of two mums and their son. One beloved sculpture in Ostend has nothing to do with the triennial: The Lioness is the only remaining vestige of an exhibition staged in Leopold Park in 1888. Lurking in the bushes, she can be a rather surprising sight.
This article was updated in August 2023.
Photos: Villers Abbey (c) Henri Gaud; Sart Tilman Dominique Houcmant; Verbeke Foundation (c) Tineke Schuurmans; (c) middelheimcans_brys2; a_museum_apart_c_art-center-hugo-voeten; Flanagan Leaping hare (c) knokke-heist_facebook