Art Brussels is back - Belgium's international contemporary art fair
One of the most prestigious contemporary art fairs in the world, Art Brussels opens its doors to art enthusiasts at Tour & Taxis from 28 April to 1 May.
After three years absence due to the pandemic, the long-awaited 38th edition will show why the Belgian capital is a hotspot for contemporary art.
Gathering 157 galleries from 26 countries, some 1,000 artists will be presented across five sections: Prime, Discovery, Rediscovery, Invited and Solo, providing visitors with a unique panorama of the current art landscape.
One of the fair's outstanding features is its commitment to showcasing emerging artists as well as more established names; cutting-edge galleries alongside confirmed addresses. This reflects Brussels' reputation as a hotbed for young talent within a dynamic and vibrant art scene that above all remains accessible.
It also prides itself on its close relationships with galleries and connections with the international art scene. One reason why the event attracts collectors and galleries from around the world as well as local art fans.
Managing director Anne Vierstraete (pictured left with director Nele Verhaeren) said: "The local and international galleries participating in the fair this year have demonstrated tremendous levels of enthusiasm and commitment. They are eager to meet at Art Brussels after two missed editions."
She pointed out that the fair prioritised works with a narrative or social dimension that interacted with the viewer over art market trends. "The fair provides an inspiring and safe environment for these multiple interactions to occur."
In this vein, the Art Brussels tackles a number of pertinent themes such as gender, identity and the body, particularly in relation to mortality and the erotic, as shown by Harlan Levey Projects (Ella Littwitz, Red Mercury, 2021, pictured). 
Another example is Kiki Smith, a German-born American artist (Lelong & Co, Paris and New York). In her interdisciplinary practice, she considers elemental forces like sex, death and regeneration. Mark Manders (Zeno X, Antwerp), a Belgium-based Dutch artist has a fascination with the head, often in detached form, as evident in many of his sculptures and installations.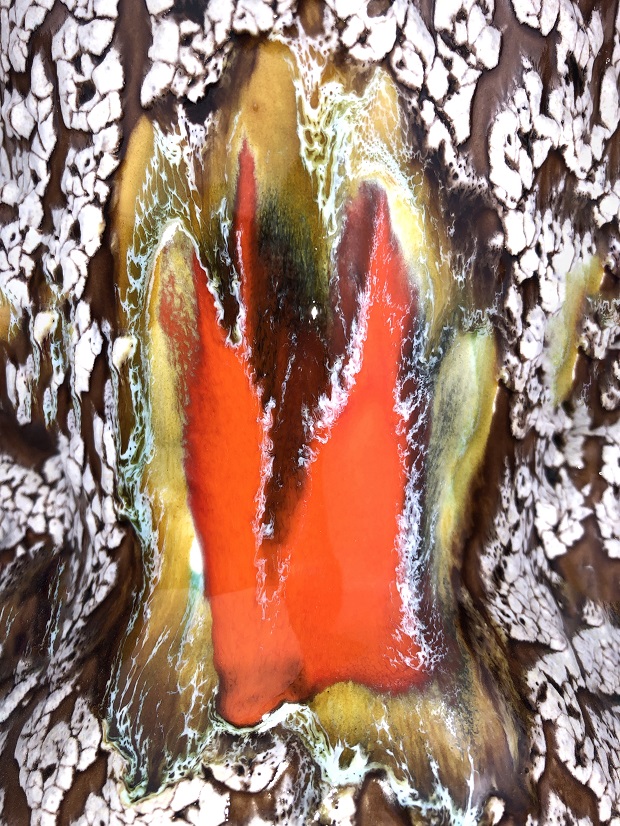 Other artists consider race, ethnicity and LGTBQ+ identity in visual culture, including Kenny Dunkan (Les Filles du Calvaire, Paris). He draws on Caribbean culture such as carnival to trace the ambiguous relationship between colonialism, local tradition and slave history (pictured). 
The climate crisis is a pressing issue for many artists, such as the brilliant young talent Chris Soal (WHATIFTHEWORLD, Cape Town), who creates intricately coiled works (pictured) from unconventional recycled objects to question their impact on urban living. The interaction between humans and the environment is explored by Ronan McCrea (Green on Red, Dublin), whose work centres on the controversial Dublin Waste-to-Energy facility. Peter Buggenhout (Axel Vervoordt, Antwerp, Hong Kong) creates sculptures from industrial waste, horsehair, entrails and house dust.
The impact of digital imagery on art forms a third recurring theme for a number of artists. Some are critical of the hyperconnectivity that characterises modern life, or show distrust towards the use of new technologies, as seen in the work of Momu & No Es (pictured) in the shared stand by galleries House of Chappaz (Barcelona, Valencia) and Joey Ramone (Rotterdam).
Art Brussels shows its solidarity with war-torn Ukraine by selling a series of five pins by Romanian artist and peace activist Dan Perjovschi. The artist's series of black-and-white drawings criticising the Russian invasion are also on display and his gallery (Michel Rein, Paris, Brussels), will be selling the original drawings in aid of a Romanian charity chosen by Perjovschi.
The fair's programme extends to other shows, performances and activities. Sam Steverlynck has curated the exhibition L'Oeuvre et Son Double in the Stibbe Lounge. It groups various artists who participated in the Venice Bienniale this year. The title refers to Le Décor et son Double, an installation by French conceptual artist Daniel Buren for the iconic, extramural exhibition Chambres d'Amis in Ghent 1986.
Also attracting satellite fairs and side shows, Art Brussels is an unmissable event for anyone with a passion or even a glancing interest in contemporary art. It's also one of the most stylish events in town!
Art Brussels : 28 April-1 May
Tour & Taxis
Avenue du Port 86c
1000 Brussels
Sorry! Our prize giveaway has now closed and the winners have been notified.