Belgian doctor awarded for his treatment of leprosy by Korean ambassador
A retired Belgian doctor who saved countless lives at a Korean leper colony during the 1960s and 70s, has received a major honour for his work.
Dr Charles Navez has been awarded the Peony Medal, the Order of Civil Merit of the Republic of Korea by Korean ambassador to Belgium, Soongu Yoon. The award is presented by the country to those who greatly improve the health and welfare of its citizens' lives.
The former medical doctor and his family were invited to the Korean Embassy in Brussels to receive the overdue and deserved medal.
Although 82-year-old Dr Navez carried out his mission on the island of Sorokdo from 1967 until 1971, Korean officials only recently discovered his enormous contribution treating people with leprosy, also known as Hansen's disease.
They were aided by the research of Adrien Carbonnet (pictured), an associate professor at the University of Leuven (KUL), founder and director of the Center for Korean Studies and a former head of Japanese Studies.
Although Dr Navez's work was recognised by Korean officials in 1971, he had already returned to Belgium, and due to illness, was unable to collect his medal so the full extent of his achievements were lost in the mists of time.
Upon his return to Belgium, the harrowing memories of children orphaned from the disease, prompted Dr Navez to help create the charity, Enfants du Monde. It matched Belgian families with Korean orphans and it was one such orphaned boy Dr Navez treated in Sorokdo that led him to publish a book in 2021 about his time in Korea called Kim Chi.
The three-year-was found close to death in a bag of rice and was saved by Dr Navez and his team. He would now be in his 50s, but has never been traced. Dr Navez said he would love to be reunited with him.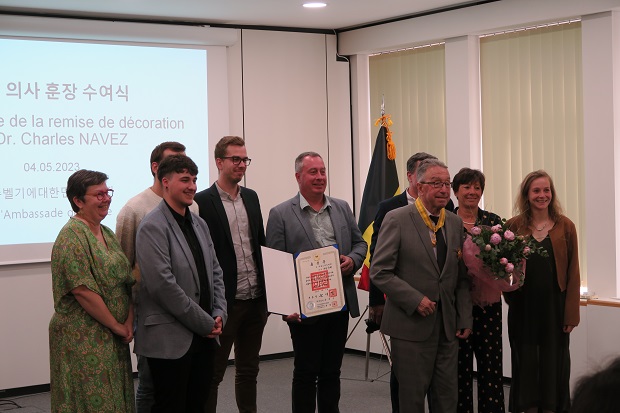 It was the orphan's courageous fight, and similar stories, that evoked renewed interest and recognition in Dr Navez' work. Speaking at the ceremony, Professor Carbonnet told The Bulletin: "When I discovered the story of Dr Navez, I felt a strong obligation to contact the Korean government to tell them about his remarkable achievements. Belgium has enjoyed a strong bond with South Korea for many years so I was happy that they have recognised what Dr Navez has achieved."
Dr Navez  gave thanks to the Korean authorities and said his late wife Paulette, also deserved the award for her work at the hospital and her enormous support during their four years in Sorokdo.
"It is an honour and a surprise to receive this medal. I carry many memories of my time in Sorokdo and I had the opportunity to return there twice. It was a pleasure to see how things had changed in the sanitation and care given to leprosy patients," he said.
In 1967, a newly qualified Dr Navez answered the call to treat patients on the Korean island through The Damien Foundation, a Belgian humanitarian aid organisation. Dr Navez, Paulette and their young daughter, Agnes, sacrificed their comfortable Belgian lives to care for the sick and dying on Sorokdo with Paulette taking up administration duties at the hospital.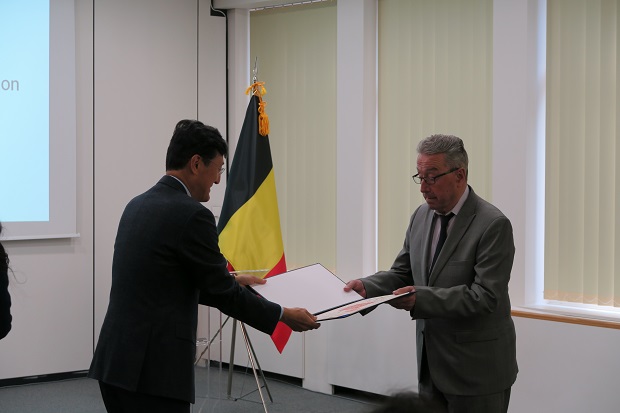 Dr Navez joined a small medical team headed by Dr Van Droogenbroeck whose team was struggling to care for thousands of leprosy patients who were in need of more modern treatment such as physiotherapy, reconstructive surgery and mental health assistance. At the time, the Republic of Korea was still recovering from the economic and social effects of the war against neighbouring North Korea between 1950 and 1953.
Although curable and quite rare today, leprosy or Hansen's disease – a condition caused by slow growing bacteria affecting the nerves, skin, eyes and nose – was once a devastating illness and those who caught it were often banished to islands where they were sometimes left untreated. This resulted in many deaths and disabilities due to permanent nerve damage.
With little specialist training in the condition due to Belgium being free of the disease, Dr Navez received his instruction in India but was soon playing a major role in the Korean hospital's small care team, performing surgery and administering treatment. Medical treatment had greatly improved  in Sorokdo when he returned to Belgium to work as a GP in the Hainaut town of Binches until his retirement in 2014.
Summing up what the medal meant to him, Dr Navez said: "Thank you all for this beautiful day that I will not forget and will not fail to wear this decoration with pride."
Photos: Korean Embassy/Haetal Chung