Dakh Daughters: Ukraine Fire, a powerful demonstration of uplifting art
Louis Kernoa-Pascoe reviews the band's recent show at Theatre 140 in Brussels
Dakh Daughters' apocalyptic cabaret showcases the darkest corners of our world, yet manages to create hope and unity in an emotional roller coaster of a performance.
As the audience takes its seats, a stark message appears on several monitors set up at the back of the stage. "Stop the aggression against Russia and the genocide in Ukraine… Stop War." Setting the dark mood for the band's freak cabaret, it's a moment to reflect on recent events and prepare spectators for the poignant show ahead.
A few minutes later, the lights go down and the performers take their positions, shrouded in darkness. Suddenly, the screens light up and reveal a terrifying compilation of bombings, mainly filmed by passers-by thrown into panic as the sky fills with shells.
Then a voice grabs everybody's attention. A member of Dakh Daughters delivers an emotional and angry monologue on her experience escaping the city of Irpin, shell-shocked along with 16 other people, young and old, who witnessed their families, livelihoods and city shattered in a matter of minutes.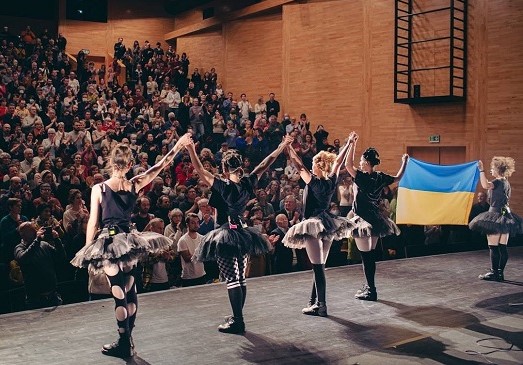 The seven members of the band proceed to stand up after this terrifying narrative and ask everyone to respect a minute of silence for the fallen Ukrainian soldiers and civilians. The evening then proceeds to entertain with an incredible musical showcase. Changing instruments between songs, the ferocity of the performers, sometimes shouting in the direction of the audience, other times singing in unison, was nothing short of amazing.
During some scenes, technical aspects played a crucial part in further breaking the fourth wall. The band's first song covers the 2014 Revolution of Dignity, which is accompanied by smoke and matching lighting effects, further embellishing the atmosphere.
Throughout the performance, themes of faith, identity and disparity underpin creative yet grounded songs that share the reality of the conflict. Each song, taken from their most recent album Makeup, provoked thunderous applause. Additionally, the troupe wasn't limited to communicating in their mother tongue. English and French - the latter picked up recently after seeking refuge in France  - created familiarity with the audience.
By the end of the show, the freak cabaret proved why it's such an international success as a wave of celebration travelled through the theatre when the band took their final bow. It was followed by an even bigger rapturous reception when they brought out the Ukranian flag and shouted "liberté, fraternité, égalité."
Dakh Daughters is touring Europe and the US with its show Ukraine Fire.