Manneken Pis dresses up as a doctor to raise awareness about childhood cancer
For the first time in his long and illustrious career, Manneken Pis is dressed as a paediatric oncologist.
Brussels' world famous statue has donned the new outfit to shine a light on Childhood Cancer Awareness Month.
Merging fashion with compassion, Brussels designer Céline Van den Bossche created the costume especially for the occasion.
The former art historian and owner of couture label Jaune, added a surprise element of a gold ribbon to the white hospital gown to celebrate the 25th anniversary of the European Society for Paediatric Oncology (SIOPE).
As is the custom, the new outfit was revealed in an official ceremony at Brussels city hall on 6 September.
Brussels city dignatries welcomed SIOPE president Dr Carmelo Rizzari and a toast followed by the president of the order of friends of Manneken Pis.
Meanwhile, the symbolic bronze statue was being kitted out by his official dresser. Once the Manneken Pis was adorned in his new medical kit, there was an official procession from the city hall to the fountain on the corner of Rue du Chêne and Rue de l'Etuve.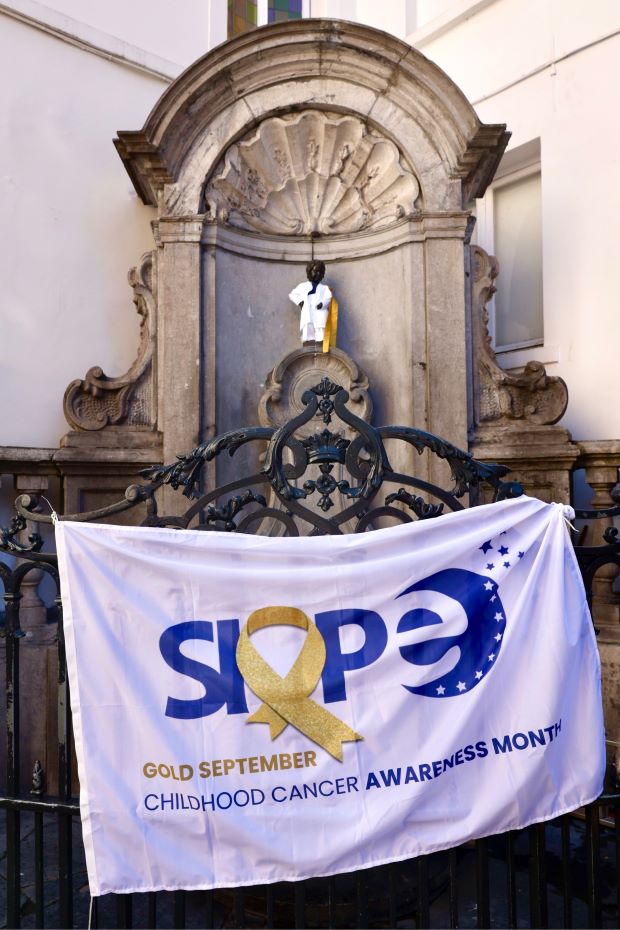 The little peeing boy was initially covered by the SIOPE flag before it was unveiled for the big reveal. His latest costume will become a permanent exhibit at the GardeRobe MannekenPis Museum, ensuring ongoing visibility for childhood cancer and raising further awareness.
According to a SIOPE spokesperson: "The City of Brussels stands in solidarity with us as we strive to bring attention to paediatric cancer through the costume of Manneken Pis."
Childhood Cancer Awareness Month is marking its anniversary year with a programme of events, fundraisers and social media campaign.
They include a policy event, a campaign with the Belgian bookshop Librairies Filigranes and #RUN4SIOPE, when the organisation teams up with Engie for the Dwars door Mechelen Run on 24 September.
If anyone would like to support the initiative and make a donation, they can scan the QR code in the poster below.
Photos: ©SIOPE