Offer an experience in the Flemish Brabant region as a gift this holiday season
In association with Tourism Flemish Brabant
Whether you're struggling to come up with a creative present or simply prefer the idea of sustainable minimalism, giving a shared experience is an increasingly popular option that matches the spirit of the season.
The province of Flemish Brabant, on the outskirts of Brussels, is brimming with ideas for such experiences and trips. The Perfect Sunday is packed with ideas for tours, combining a visit to one of the region's top attractions with a relaxing nature walk or bike trip in the neighbouring area.
There are suggestions for all ages and interests. For keen epicureans, the Hageland wine tour is an opportunity to learn about local vineyards and the micro-climate that favours the grape region. Fans of history and heritage can tour the castles and gardens of Pajottenland or explore the region's fascinating past, including the first world war (pictured above), the brewery industry and the grounds of the famous rock festival Werchter and its permanent art installations. If you're in search of urban treasures, discover religious sites in and around the town of Diest or ancient abbeys in Leuven. Nature lovers are spoilt for choice. A tour of the green belt around Brussels, featuring the Meise botanical gardens, is one of the many options.
The ideas also include tips on other nearby places of interest, and naturally, pit stops for delicious refreshments or lunch. There's also information on accessibility by public transport. Of course, these tours are not limited to Sundays!
If you prefer to wrap up a present to place under the Christmas tree this season, the province's tourism office offers the perfect gift for hikers and nature lovers with its book Walking in Flemish Brabant. It provides the best routes in and around Brussels' green belt; 24 user-friendly itineraries – including signposts and maps – that's guaranteed to inspire you to step out and explore the rural haven that lies within easy reach of the city.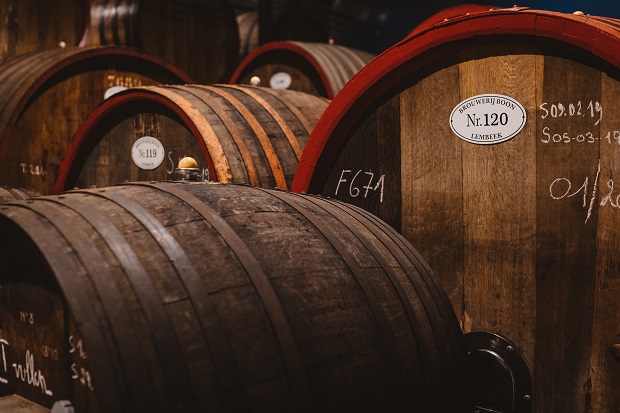 With New Year around the corner, the Flemish Brabant's Become a local bucketlist is a fun and inspiring list of things to see and do in the area. Sample regional specialities such as open cream cheese sandwiches garnished generously with peppery radish, or try a local brew (also the perfect accompaniment to this tasty snack) with a visit to one of the province's many craft brewers (Boon Brewery geuze barrel pictured above). There are many more ideas on the bucket list that you're invited to experience and share on social media.
If you are looking for other ideas for winter activities, find more inspiration in our articles on local museums (Damien Museum, pictured above), delicious local products giftboxes (pictured below) and our tips for a warming spa treat (Thermae Boetfort, main image).
Alternatively, why not plan ahead for a trip on the water in the spring and summer months. For outdoor fun and a breath of fresh air, enjoy a day out – drifting downstream in a canoe or kayak – along the Demer or Dijle rivers with The Shelter, a family business that runs outdoor sports for individuals, families, schools and companies. Other local businesses offering similar water-themed activities include Leuven Floats and Dijle Floats.
Looking ahead to the warmer season and longer days, consider navigating the green belt by boat with Rivertours. From May to October, it runs trips for individuals and groups that can be combined with bike rides and sightseeing stops along the way.
So if you want to gift something unexpected and memorable this holiday reason, these experiences – tailored to the recipient's personality and passions – may be key to the perfect present.
Photos: © Thermae Boetfort (main image); walking in Averbode © Lander Loeckx); Belevingscentrum '14-'18 Tildonk © Lander Loeckx; walking in Begijnhof Diest ©Lander Loeckx; Boon Brewery; Damien Museum © Lander Loeckx