'Once upon a time': Photographer explores Belgium's post-industrial landscapes and communities
A journey of discovery through Wallonia's post-industrial communities has been captured in a new book by renowned documentary photographer HJ Hunter.
Its title Once upon a time was lifted from the words graffitied on the walls of the abandoned Palais des Sports in the Coronmeuse district of Liege. It's an emblematic building that's now undergoing renovation as part of the area's transformation into an eco-friendly quarter.
This image of the former ice hockey hall, with two coal slag heaps in the background, is one of 94 photographs by the Dutchman who was determined to capture the spoils of the landscape of the Meuse-Rhine region through his lens.
The project began in 2015 when Hunter decided to take a short pilgrimage with his camera from his home city of Maastricht in the Netherlands. He wanted to explore western Europe's new landscape following the wide-scale post-war closure of coal mines and steel works.
Deindustrialisation has taken a social and economic toll on the former industry-heavy region of Liège, once the largest producer of steel in Europe, even if ongoing regeneration is responsible for the growth of many new businesses.
Hunter largely preferred to use his feet rather than four wheels to explore villages and towns. "When I first started out taking pictures in this area, I didn't know anything about its history. I just walked around and spoke to local people and took images from every angle of the often, strange buildings I came across," he told The Bulletin.
He discovered that despite poverty-fuelled criminality, multi-cultural communities were thriving. "I saw that when people have nothing, they mostly want to help one another. In the Congolese community, people are giving practical help like providing shelter. One man who was a lawyer in his home country, helps people integrate into Belgian society."
Hunter says he only started to take photographs "seriously" in 2013, but a sound journalistic and literature background enabled him to select such fascinating and diverse images.
He put locals at ease by capturing them going about their day-to-day lives; beautifully illustrated in an image of a group of Turkish-Kurdish women, sitting in a park in Droixhe, Liege (pictured above).
A middle-aged couple huddle together for a photograph outside their front door in Borinage, a former coal mining area in Hainaut province, while an elderly lady stands proudly upright in a balletic pose in an empty Place Saint-Lambert square in Liège (pictured above).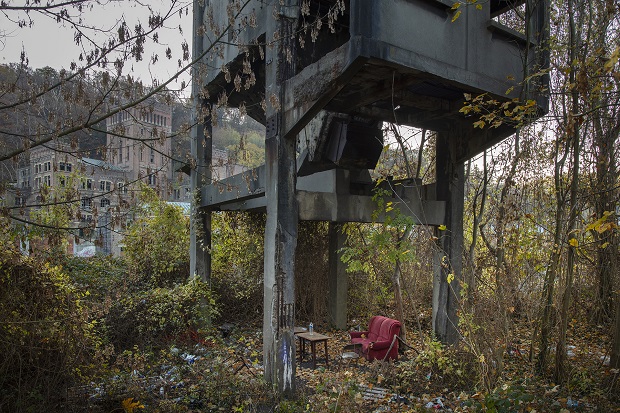 Among the book's landmark images, is an abandoned coal-washing plant at Charbonnage du Hasard. It closed in 1977, leaving 600 miners without a livelihood. When Hunter took the photograph, it stood in an overgrown slice of land littered with dumped household items such as an old sofa and table.
The plant is over-shadowed by the former 1907 coal mine that takes on the appearance of a small castle rather than an industrial carbon extraction domain. The mine is now part of a regeneration scheme by the Walloon government and has protected status, although some of its features have been lost in the intervening years.
Also enjoying better days after an abandoned past is the eye-catching railway bridge at Visé (pictured) that Hunter recorded before it was rebuilt. It was constructed during the World War One by the German army to connect the area with the North Rhine-Westphalia and the port of Antwerp. Hunter also snapped a similar post-industrial Germany region near Essen to mirror Wallonia's manufacturing and wealthy past and subsequent economic downturn.
The book features the former steel factory in Ougrée in the Liège district of Seraing. Founded in the early 1800s, the building is where British industrialist John Cockerill operated his world-renowned steel and ironwork business.
The factory (pictured above) built the first steam locomotive in continental Europe, Le Belge, and produced the rail tracks for the first line from Brussels to Mechelen in 1835. Happily, the John Cockerill Company - formerly CMI - still exists today, although liquid steel production in and around Liege finally came to an end in 2011.
Sadly, during his travels around the region, Hunter came upon one social problem that persists. "The number of young people with poor mental health seems to be on the rise and I fear it has been passed down from older generations."
His previous projects with young people include a series of images entitled Brexit Inbetweeners. Hunter (pictured above) spoke to young disaffected British adults who were not eligible to vote during the Brexit referendum as they were underage.
Future plans include visiting former Soviet states such as Latvia, Lithuania and Estonia and war-torn Ukraine to capture the moods, thoughts and aspirations of its communities.
As for his travels documenting post-industrial Belgium, "I discovered so much on this Belgian journey," he said.
Once upon a time can be ordered online on HJ Hunter's website hjhunter.photography.
Photos: ©HJ Hunter: (main image) Palais des Sprots, Coronmeuse; a resident in the Seraing district of Liège; a couple in front of their home in the former Borinage mining region of Hainaut; Turkish-Kurdish women in a park in Droixe, Liège; a woman stands alone in Place Saint-Lambert, Liège; Charbonnage du Hasard, Cheratte coal mine  Liège; Visé bridge; John Cockerill's former steel factory in Ougrée, Liège; HJ Hunter ©NIco Bastens