Play at KVS in Brussels about assassinated Maltese journalist
The Bulletin has pairs of tickets to give away for play They Blew Her Up on 4 & 5 May
Daphne Caruana Galizia was Malta's foremost investigative journalist when she was killed by a car bomb in October 2017. She had exposed corruption at the highest levels in government and business circles in her home country.
The killing of a prominent journalist within a EU country drew international attention and raised concerns about the rule of law in Malta.
A public inquiry found the state responsible for Caruana Galizia's death and the investigation led to prime minister Joseph Muscat's resignation in 2019 after his close associates were implicated, although he denied corruption charges.
The Time of Malta's editor-in-chief Herman Grech reported on the investigation and spoke to people at the heart of the case. It inspired him to pen a drama based on interviews and the court case.
His play They Blew Her Up is being staged at the KVS Theatre on 4 and 5 May in English with French and Dutch surtitles. A discussion in English between Grech and Caruana Galizia's son Matthew will follow the performance.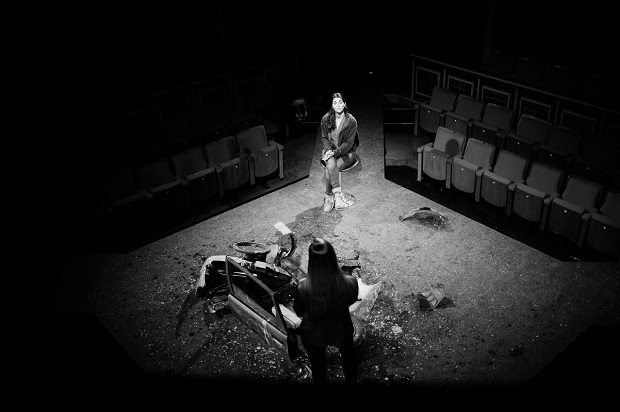 "This is a play writing itself" says Grech 
The production is supported by the Association of European Journalists. Volunteer Danica Van der Merwe and AEJ Belgium vice president Alia Papageorgiou interviewed Grech about his motivation to write the drama.
"More people opened up to me when I wore the hat of a playwriter than when I wore the hat of a journalist," he said.
Asked why he chose to label characters as concepts such as the 'criminal element', Grech explained that he was walking on "legal eggshells", which was also why he chose a fictional account.
"However, a lot of the content comes from true statements and testimonies. The script is verbatim, meaning a lot of what I said in the play was said to me in testimonies and interviews." 
Grech described the surreal experience of witnessing people "deemed untouchable in the political scene" being marched to the police station for questioning. He said to himself, "this is a play writing itself".
The decision to stage the play in Brussels rather than Malta was due to the latter's government and investigators being "embarrassed" as well as Covid restrictions.
But there was another reason to show it to a wider audience: "It has an international dimension. Daphne Caruana Galizia is not just another name. It talks about media freedom and democracy. It talks about a possible state being implicated in a murder," added Grech.
Photos: (c) Daryl Cauchi. Sorry! Our prize giveaway has now closed and the winners have been notified.