Students 'blindsided' by University of Kent decision to close Brussels campus
The news arrived in an email on 30 March: the University of Kent planned to "wind down operations" at its Brussels campus from September 2023, say students at the Brussels School of International Studies (BSIS).
The British university informed students that the postgraduate school would fully close by spring 2024, citing lack of financial viability for its decision. Students at the Etterbeek campus claim they were blindsided.
"The decision was made unilaterally, with no transparency nor prior consultation with concerned staff, students, and local administration," they said in a press release.
It outlined the student body's reaction and called for their voice to be included in the conversation on the future of BSIS. "We have significant concerns about the status and value of our degrees, job prospects, and even the legal situation in Europe for those students on student visas."
The day after the announcement, a Q&A session was held with the University of Kent's Dean of Europe. Students say assurances that their degrees would remain valid and that current students would be able to graduate were "ungrounded" as professors and staff had received termination notices.
A promised visit the following week by high-level management failed to happen, students say. They sent a representative to the university's headquarters in Canterbury, resulting in a planned visit to Brussels by vice-chancellor Karen Cox on 17 April.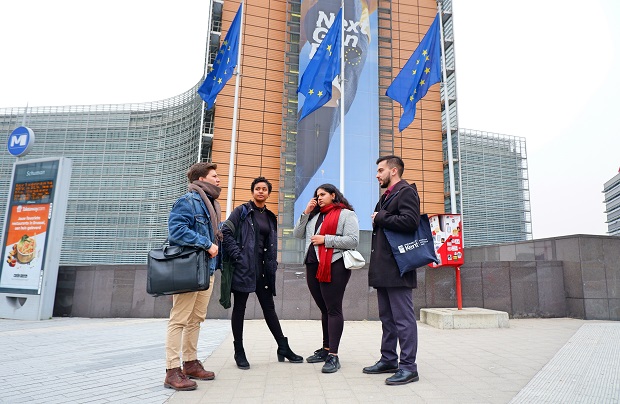 The students believe the closure of the Brussels campus highlights weakened links between the UK and Europe post-Brexit. BSIS was founded in 1998 and offers courses in international relations, policymaking and international law via specialist MA and PhD courses. Its students and staff represent more than 45 nationalities.
"BSIS is a specialised postgraduate institution with an exceptional track record in terms of research and innovation in the fields of international studies, law, and politics – it is no small feat to have such an institution in Brussels linking the UK and Europe," said the statement. 
They say the decision to close the flagship campus goes against Kent's international strategy and its claim to be "the UK's European University".
Support from alumni and past staff
Students have set up Twitter and Instagram accounts for their campaign. They are grateful for support from alumni and past staff, says one masters student, who prefers to remain anonymous. 
The graduate from India is on an extended programme until September 2024 and, with the school due to close in June 2024, is concerned about her final dissertation. She deliberately chose her BSIS course for the international platform it promised and hopes to study for a PhD in Europe following her masters.
As a non-EU student, she has also had to battle for a student visa. "I received my residence card the week of the announcement and it has to be renewed in October and again next year," she told The Bulletin.
She and her fellow students are counting on the meeting with the vice-chancellor for concrete answers about their future. "It's a horrible situation to be in; we shouldn't have to be worrying about all of this."
Cost and recruitment pressure
The University of Kent confirmed in a statement that the "difficult and regretful decision" was for financial reasons. "In recent years we have been running it [BSIS] at an increasing cost and further recruitment and wider pressures mean this is sadly no longer sustainable for the university."
It said this year's students would be its final Brussels graduates, with no new intake in the next academic year. "Teaching will continue as normal until Summer 2024, with all current applicants being contacted personally to explore alternative study options at Kent."
The university said it recognised that the news was unsettling and challenging for staff and students, but that it was fully committed to doing all it could to support and accommodate them. It confirmed that the vice-chancellor and other senior colleagues would soon visit Brussels to answer questions from students and staff.
It added that regional ties within Europe remained strong through its 3i network with the universities of Ghent, Leuven and Lille, and a presence in Paris. "We are also exploring other ways of broadening our scope across Europe and the world as set out in our Global Engagement Strategy."
Photos: ©BSIS