Telling stories though art: Blaise Patrix exhibits at Brussels' Grand Place Hilton
A year-long exhibition by Franco-Burkinabè artist Blaise Patrix at the Hilton Grand Place represents the second collaboration between the hotel and an artist based in the capital.
Exhibition 2023 Retrospective consists of some 30 works spanning three decades in a career that has been defined by travel – largely on the African continent – and by human exchange and co-creation.
It's one reason why the paintings appear at home in an international hotel that's a bustling backdrop with its constant movement of people. Located opposite the Central train station, it's just a stone's throw from the Grand Place and a continuous throng of tourists.
From the Hilton's reception to its restaurant in the atrium lobby, bar, corridors and various nooks and crannies, Patrix's artworks inject colour and texture while inviting reflection. Ranging from abstracts to figurative and collages, the large-scale artworks convey a love of nature and a deep sense of humanity while exuding an infectious energy.
Among the series are landscapes and seascapes in palettes of more restricted hues. Above the sea (pictured above) combines a contrast of pigments and resin on woven fabric to create a textured work in aqua and earthy tones. This light tactile touch extends to other collages that employ multiple techniques, the result says Patrix of largely being self-taught.
He recounts many of the stories behind his works. "Throughout my career, I have explored the richness of the material world. My figurative works flirt with others that are partly or totally abstract, as well as with frescoes that are more symbolic. Art is like life: the possibilities are endless."
In his Territories series, painted in Senegal, vivid colours present seemingly confused scenes. On closer inspection, small human figures are apparent, lost in this turmoil. The artist also evokes the vastness and supremacy of nature via his use of organic materials; a reminder of the place of Man in the ecosystem.
Born in Paris, Patrix was drawn to the people and beauty of West Africa early in his career. After 20 years of living in Burkina Faso, he returned to Europe with his family. Their first port of call was the island of Lampedusa in Italy, a major transit point for migrants from Africa. The visit coincided with the 9/11 attack in New York, "such a symbolic moment," he recalls.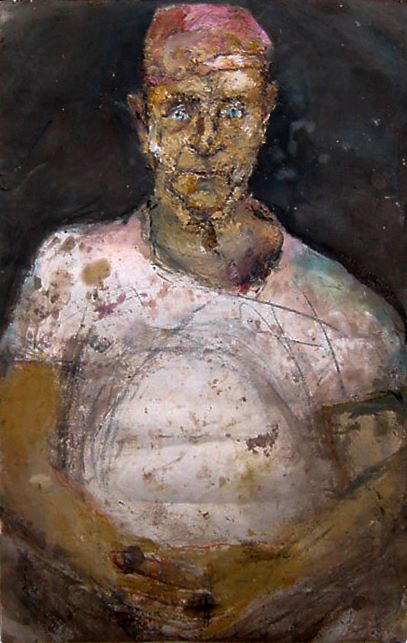 A series of portraits includes a chef in Lampedusa (pictured above), who when the siren goes, rushes out to the lifeboat to rescue migrants lost at sea. Patrix draws attention to the look of gentleness and kindness in the man's eyes, a poignant focal point in the picture. He's a "good man full of good nature", says the artist.
Despite scenes reflecting human loss or displacement, there's also a theme of harmonious co-existence running through his oeuvres. As an experienced teacher, Patrix, has long pursued collaborative creative processes. His Socia(B)le Art concept involves visual art partnerships in social, business and urban contexts. It's why he's active locally with workshops and other events promoting the social and participative value of art.
Relationships are also at the heart of his collaboration with the Hilton. The 30 works were selected by both the artist and hotel manager Ellen Deboeck; the pair quickly bonding over their shared love of travel.
The retrospective aims to convey a genuine message beyond the marketing of art, says Deboeck. "Each department is directly involved with the exhibition: the kitchen through our chef, but also the front office and our staff members in charge of seminars."
The relationship between Patrix and head chef Vincent Masson, who reigns over the gastronomic Sentro restaurant, was key to the project. The chef visited the artist's studio in Saint-Gilles for a sitting, which took an unexpected turn when he was invited to join Patrix on the floor for initial sketches for the delicate yet deft portrait (pictured above) that graces the cover of the menu.
The artist's habitual working mode didn't deter the chef, who in turn has incorporated some of Patrix's style into his menus, adding an additional creative element to a cuisine that elevates quality and fresh ingredients while honouring his own Normandy roots and Belgian influences.
It's an artistic fusion that will continue for the duration of the exhibition.
All of Blaise Patrix's works are for sale or available for rent. A QR code with explanatory information accompanies each one.
Exhibition 2023 Retrospective
Until December 2023
Hilton Brussels Grand Place
Carrefour de l'Europe 3