Choco-Story Brussels: A museum dedicated to the global love affair with cocoa
On the eve of the seasonal Easter choc-fest, Kim Revill takes a timely tour of the museum that traces chocolate's sweet history
Chocolate is a huge money earner for the Belgian economy, generating around €2 billion in exports every year. So it's fitting that Brussels boasts a museum in the heart of the capital, celebrating the rich history of this ancient delicacy.
The Choco-Story Museum is a real gem located a stone's throw from the Grand Place in Rue de l'Etuve. Although the museum first opened in the city 20 years ago, it's now enjoying its third year in this historical building. Spread over three floors, it proves to be not only a chocolate lover's dream, but a mine of information that takes the visitor through the science, methods and history of chocolate consumption. A complimentary piece of chocolate as you enter is a welcome bonus.
Conjecture surrounds the origin of the word chocolate. According to curators, it's probably a hybrid word derived from the cacahuatl and pochotl seeds from the kapok tree. Or could it derive from 16th century Spanish or the verb chocola'j in ancient Quichan Mayan, meaning 'drink chocolate together'?
Nobody really knows, but the fact is cocoa was consumed as far back as 2,600 years ago by the Mesoamerican Indians in southern Mexico, Guatemala and Belize, and later by the Aztecs. A pot unearthed in the region of Rio Azul was found to have traces of theobromide, a remnant from the cocoa tree, proving that the dark liquid was indeed a kind of early chocolate drink consumed by the early South American people.
Handsomely crafted pots and fruit bowls, similar to the one found in Rio Azul, are on display, some dating back a thousand years. All are intricately decorated and immaculately preserved. The pots were used by the Mayans and later the Aztecs to crush the cocoa beans and sugar cane before mixing in the water. Also on show are early shells or conches, still used today to evenly distribute cocoa butter and to darken the chocolate.
Recipes for drinks were passed down generations and on to writers, priests, aristocrats and Spanish intellectuals during the period of Christopher Columbus's voyage to the Americas. Visitors can enjoy lessons in botany with a tutorial on Criollo Cacao seeds, which provides a sweet-sour chocolate. Complimentary fruit and spices such as almond, chilli, paprika and avocado were initially added to chocolate drinks, flavour combinations which still inspire culinary enthusiasts.
Discover ancient, yet surprisingly sophisticated equipment, including mortars, pestles, grinders and frothing devices like whisks or molinillos. Children and adults can try their hand at frothing via a pestle-type device with the help of a video tutorial. Frothing was seen as an essential process in making chocolate drinks as it was said to fully enhance the flavour.
You can take a seat and watch a short film of the trans-Atlantic journey of chocolate from South America to Europe and then on to southeast Asia and Africa, which is the major exporter of cocoa today, with Ivory Coast and Ghana leading the way. Cocoa beans were not only used for their sublime flavours, but for the health benefits they provided such as anti-inflammatory agents and in helping reduce cholesterol and blood pressure.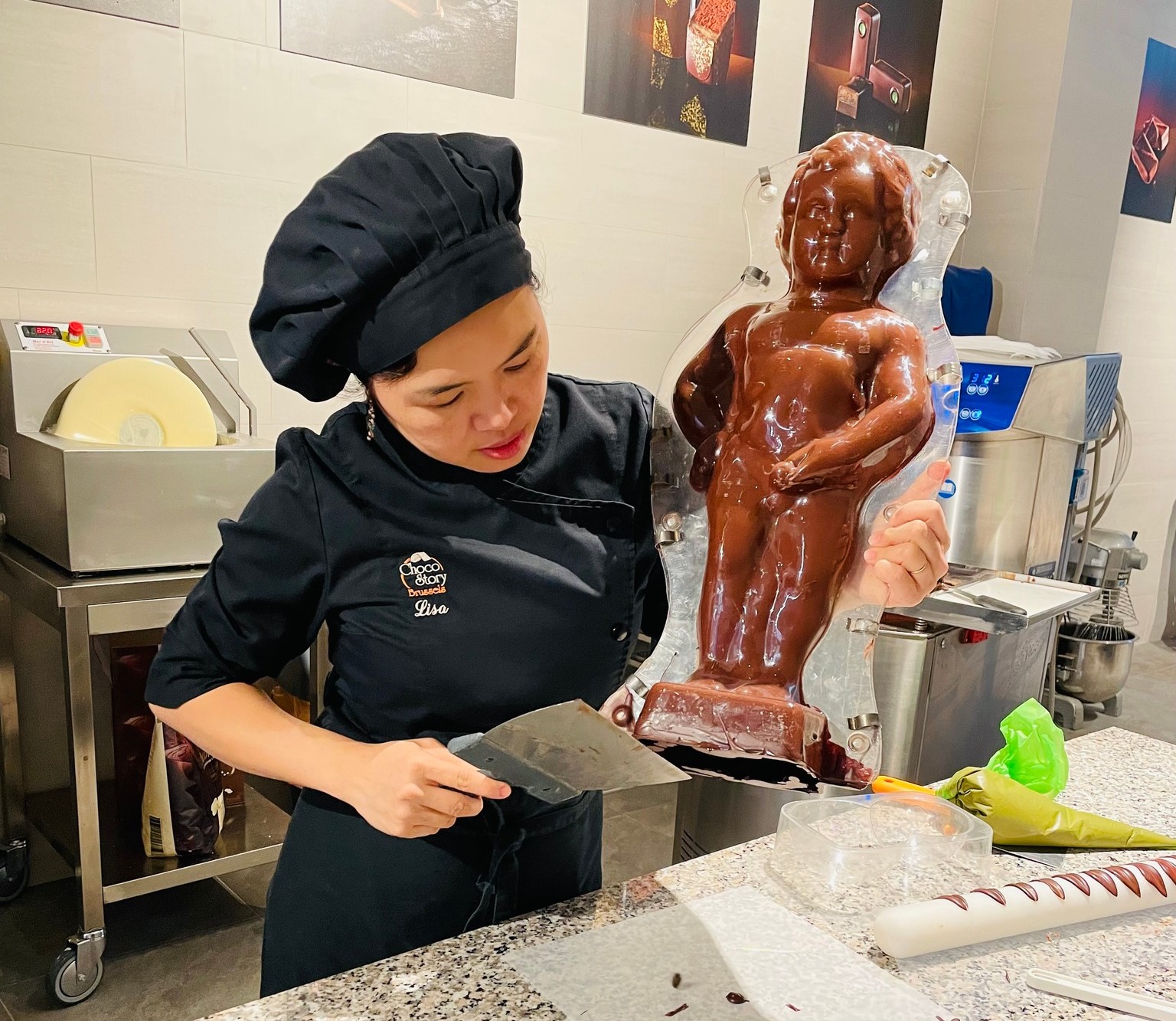 Chocolate drinks - a delicacy once only for the rich – were thought to be a favourite of Louis XIV of France. Did you know that early priests used to shake cocoa beans in their cups to ward off evil spirits? The tradition persists in the way we clink our glasses when toasting each other with a cheers, santé, proost or any other salutation.
Of course, Belgium's own association with chocolate is not ignored. Visitors can take a peek through an early 20th-century shopfront replica, revealing copious amounts of chocolate and pralines. The Cote d'Or brand was founded in in Schaerbeek in 1883 by Belgian-Swiss Charles Neuhaus. It was his brother, pharmacist-turned chocolatier Jean Neuhaus who gave the world the first praline-filled chocolate using an almond-based flavouring. The first praline chocolate was made in 1912, a vital Belgian link to the whole Choco-Story. Today, Neuhaus sells in over 50 countries worldwide and the Neuhaus company received the Royal Warrant of Appointment in 2000.
Recent artefacts include beautiful early 19th-century hand-painted confectionery tins and an impressive array of 100-year-old chocolate vending machines. There are figures peppered around of Brussels' famous figure the Manneken Pis, covered in chocolate of course.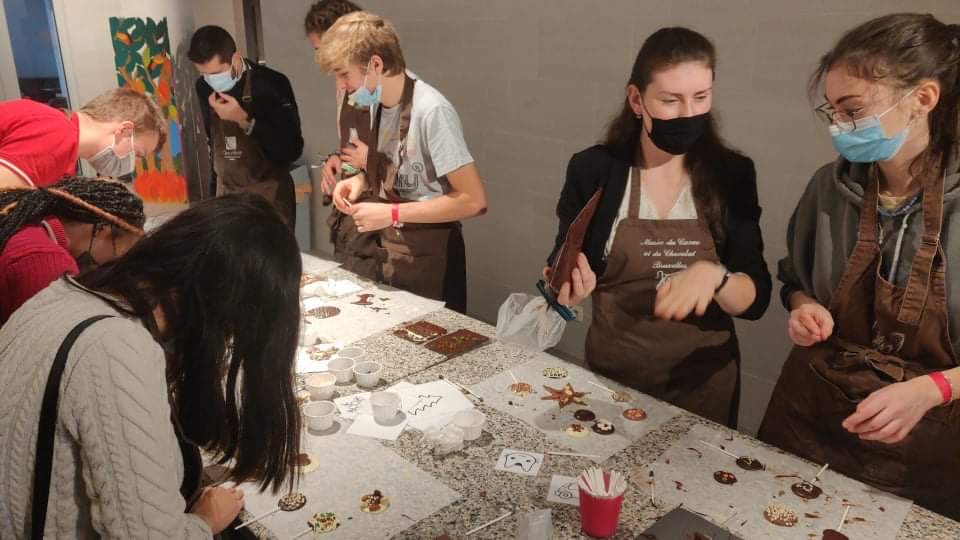 Finally, the piece de resistance of this memorable museum is the chocolate making demonstrations that are given every half-hour by one of four master chocolatiers. They enthusiastically take turns to guide you through the art of creating the perfect chocolate, with demonstrations in French, Dutch and English.
Beware, tasting chocolate is like drinking a fine wine so you're advised to take in its odour before gently holding it on your tongue so the flavour slowly melts onto your palate. Only then can you grind it with the help of your teeth for a longer tasting experience. The natural reaction for children and adults alike is to munch as many chocs as possible. 'Eat it with love,' is the overwhelming message here!
Choco-Story Museum
Rue de l'Etuve 41, 1000 Brussels
Practical info: Metro station De Brouckere or Gare Centrale; bus 41 or tram 3. Open daily, 10.00-17.00 (except Christmas Day and New Year's Day)
Tickets: €9.50 adults; €8.50 over 65s and students 12-26; €6.50 children 6-11. The museum is accessible for people with reduced mobility. Audio guides available for most displays. The workshop can be hired by small groups, including school parties. Reservations via Info@choco-story-brussels.be or tiqets.com