Roses are red for Valentine's Day in Belgium
Red roses remain the favourite bloom for Valentine's Day, says Loan Liccioni, owner of Brussels florist Rouge Pivoine. The symbolic flower of romance tops her shopping list at Euroveiling, the capital's wholesale flower market.
"They may be expensive, but I'll pay the price for large beautiful roses," says Liccioni, who's reputed business on Chaussée de Waterloo in Ixelles prides itself on selling only the best quality and longest lasting cut flowers.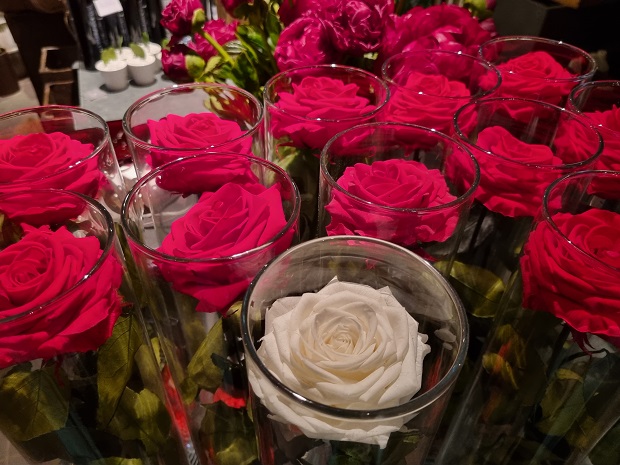 If some of her high-end clients will splash out up to €500 for a swathe of rosebuds, younger couples are likely to opt for a more minimalist outpouring of love. "We'll select three magnificent roses and arrange them with additional foliage and a touch of exoticism that's the speciality of the house," she says.
Other popular bouquets prepared for the occasion are a selection of multi-hued pastel roses or alternative red blooms such as early season peonies or dramatic ranunculus, both guaranteed to impress.
Rouge Pivoine also creates alternative floral gifts for the occasion, confecting new creations each year, from ruby heart-decorated orchids to rosebud-filled wooden bark holders.
After Mother's Day and the Jewish New Year, Valentine's Day is one of the busiest celebrations for the florist. Liccioni points out that wholesale prices have risen by 20-25% due to the coronavirus pandemic. "You now need to count on paying at least €50 for a decent bouquet."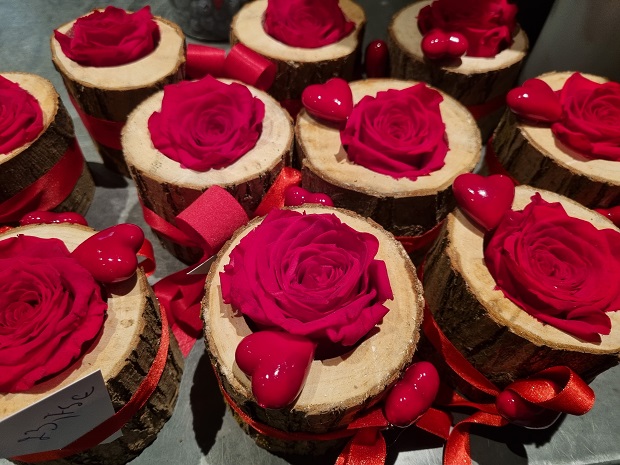 As for the question of the origin of the roses, Euroveiling sells varieties from Ecuador, Ethiopia and Kenya as well as Belgium. "Naturally, we prefer to buy Belgian and defend the home market whenever possible," adds Liccioni, who boasts over 40 years in the business.
Finally, Valentine's is a bittersweet occasion for the florist. "It's funny to see so many men filling the shop. I've lots of single women in my team; it's just a shame that they're already taken."
Love is in the air
Whether it's a welcome antidote to midwinter gloom or one of those calendar markers that leaves you decidedly indifferent, there's no ignoring the day devoted to cupid.
From chocolate shops to hotels, restaurants and luxury goods, a never-ending stream of suggestions abound for showing your love.
Treat your valentine – or why not yourself – to some delicious cocoa confectionery thanks to artisan chocolatier Laurent Gerbaud's selection of five ganache-filled hearts (pictured above).  From ruby red, luscious lemon, dark or milk chocolate coatings with basil and strawberry, vanilla, praline and cashew nut centres, his pencil box presentation is decorated by a local illustrator and retails for €10.95.
Alternatively, for ultimate indulgence, opt for a large selection box with a candy heart dropped into the centre for a more discreet yet extravagant declaration of love (€64.95; pictured above).
Fellow handcraft chocolate maker Benoît Nihant proposes reaching for the stars with his exclusive box of constellation-themed cocoa delights, Star of my life (€32; pictured above). Dark chocolate ganache from Madagascar, praline made with Grenoble walnuts or pine nuts with a hint of salt, dark Cuban chocolate with vodka and honey, milk chocolate from the Dominican republic infused with yuzu juice, are all among the flavours of his five new recipes.
On the beauty front, Walloon sparkling wine specialist Domain du Chant d'Eole has launched a collection of naturally-certified cosmetics originating from its vine production. Maison Eole's Wine Extracts products are enveloped in wooden gift boxes. There's shower gel, day and night face creams, eye serum, body lotion and grape-seed scrub. For him, the line proposes beard care, eye serum and after shave cream (gift boxes from €55).
Serendip Spa & Yoga in Brussels is running a Valentine's Day special offer from 12 to 19 February for three of its sessions: Couples Rituals, Private Yoga for Two and Mindfulness Journey for Two. Take advantage of the 15% discount and enjoy the duo pampering treatments with your partner, friend or family member.