Chamber music duo Maisky-Troullous to play Full Circle on 12 October
Brussels Muzieque returns with a full season of classical music, presenting at least one concert a month until May 2023.
Among nine concerts scheduled in the capital, the Maisky-Troullous Duo will be performing a piano bassoon duo recital at Full Circle House on 12 October.
Pianist Lily Maisky and bassoonist Mavroudes Troullos present some some of the great romantic composers such as Tchaikovsky and Rachmaninoff,and impressionists and symbolists, including Saint-Saens and Scriabin.
Together, the talented pair take the audience on an explorative journey of the wind instrument's expression and virtuosity, accompanied by the ever-present and versatile piano.
Paris-born Maisky has performed in prestigious venues around the world, as well as recording for major classical music labels. She's a Steinway artist and proud owner of legendary Arturo Benedetti Michelangeli's final instrument.
Cypriot bassoonist Troullos has won a number of international prizes and was named an ambassador of Brussels Royal Conservatory in 2018. He has performed in recitals and large concerts as well as making solo appearances.
Brussels Muzique's star-studded new season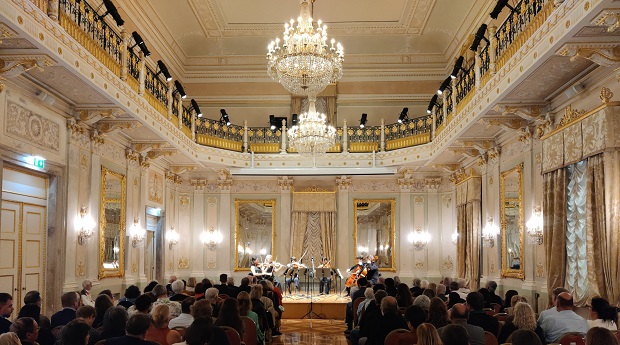 As a collaborative classical music platform, Brussels Muzieque is committed to promoting musical culture. Its new season opened with an international partnership; its Phoenix Sextet ensemble performing in Vienna and Venice (pictured above). The tour will appear in a forthcoming documentary about the Fin de siècle period, including an exclusive interview with the composer A Schoenberg's daughter.
Performing in the Phoenix Sextet, was 2022 Queen Elisabeth music competition fourth prize winner, cellist Alekshey Shadrin. Looking ahead, the season includes the participation of two more laureates with Sylvia and Stéphanie Huang (violin and cello respectively) scheduled to perform in January.
For the busy season, the artistic team has been reinforced by a flock of virtuoso musicians from leading orchestras in Belgium. They are joined for the first time by composers-in-residence to present original arrangements and new works.
Benefitting from subsidies from the Wallonie-Bruxelles International and Fédération Wallonie-Bruxelles, the season's concerts are part of a special collaboration with  the Italian Cultural Institute of Brussels and Full Circle Ideas. Remaining in position as general and artistic director, is cellist Eduardo Tonietto.
Maisky-Troullous Duo
Full Circle House
12 October, 20.00
Chaussée de Vleurgat 89 (Ixelles). Sorry! Our prize giveaway has now closed and the winners have been notified.